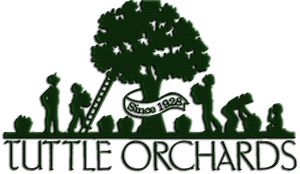 ---
Job Overview
PLEASE NOTE: Please do not leave any areas blank. If you have no response, put in NA. Please make sure your application says SUBMITTED. If you get a white screen at the end then the application did not go through. If you need assistance please contact us at 317-326-2278
Tuttle Orchards is an apple orchard, located near McCordsville, IN. We are passionate about helping lots of visitors have fun experiencing agriculture in our Farm Store, Cafe & Sweet Shop, Greenhouses, Pick Your Own Activities, Corn Maze, Kid's Farm Adventure Area, Field Trips, Hayrides, and more!
What you can expect working at Tuttles:
Fun, family friendly work environment (Tuttle's guests are a great bunch to work for!).
Flexible, part time or full time seasonal positions. We try to work around your schedule as long as you tell us in advance.
We are also closed on Sundays providing staff an opportunity to spend the day with their families.
Hard working, fast paced farm environment.
Variety (there are a lot of things to be done at the orchard. There's a good chance you won't be doing the same thing every day).
Outdoor environment. Our employees tell us they love being so close to nature. Many positions (although not all) are working outside. This also means you'll work in a variety of weather conditions and temperatures.
Hourly Pay: $12-14/hour for first year based on past experience
Staff discount for purchases at the orchard plus free slushies and free fall admission to Tractor Town/Corn Maze/etc for family members.
Qualifications
An Ideal Candidate for Tuttle's Seasonal Crew (some positions have other requirements):
Positive attitude and good customer service skills.
Willingness to work hard. People often tell us at the end of the season: "Tuttles is the funnest job I've ever had and I've never worked so hard in my life!"
Desire to help guests have a great experience.
Initiative. Ability to see ways to help guests have a great experience and take proactive steps.
Willingness to work efficiently at a variety of tasks in any given day (we believe in cross training and multitasking).
Ability to do some occasional lifting (most jobs require neeing to lift a crate of apples on occasion approx. 45lb)
Ability to stand and work in indoor or outdoor environments for extended periods in all types of weather.
Availability to work on Saturdays is a HUGE PLUS!
Be at least 16 years old by September 1st (18 years old for a few positions).
If you are a high school student, it is ideal to be available to work Saturdays and during fall break (this is very important – we don't have Sunday or evening positions, so students who have lots of Saturday school activities won't find Tuttles to be a good fit for employment).
Be looking for a seasonal job for August through October.
Why people tell us they love working at Tuttles:
Comments from former and current staff:
"Tuttle's is a great place to work because everyone is so kind and happy. It's awesome to work in a place where everyone is happy and takes pride in their work."
"Tuttle's was the most fun job I've ever had"
"Working at Tuttles taught me how important customer service can be and how to properly use it. I made so many friends that I know I'll have connections with for a long time and I'm so glad I was able to be apart of it!"
"Working at Tuttle's gives me the tools for the desire to work hard and do my best. Every year I leave with memories I will always cherish and I can't wait for the next season. Tuttle's will always be my favorite job"
"Working at Tuttle's is a great experience no matter what your age is. It is like being a part of a family all learning to work together."